The T1 line uses two wire pairs (one for sending, one for receiving) and time division multiplexing (TDM) to interleave 24channels 64-Kbps voice or data. The standard T1 frame is 193 bits, which holds 24 8-bit voice samples and one synchronization bit with 8,000 frames transmitted per second.
T1 lines are widely used to connect an organization's PBX to the telephone company or to connect a local network (LAN) to an Internet provider (ISP). They are also used to access the internet in buildings without DSL, cable or fixed wireless coverage.
The basics E1 Carrier features are shown as below:
● Transmission of signals at the rate of 1.544 Mbps, here is how it is calculated:

◆ T1 carries 24 channel

◆ 24 channel for voice/data + It has 1framing bit

◆ 1 Channel = 8bits

◆ Total bit=(8 *24)+1=192+1=193

◆ Sampling frequency = 8KHz

◆ Data rate per channel = 8*8000 =64Kbps

◆ (64*24=1536)+(1*8=8)=1536+8=1544=1.544Mbps

● T1 media types including twisted pair cable, coaxial cable, microwave radio, fiber optic cable, and satellite.

● A T1 line is point-to-point. T1 lines may be used fractionally or at their full bandwidth.

● T1 frame consists of 24 timeslots.

T1 Frame Types

The T1 interface supports 4 different frame structures, dictated by the mode of operation, they are Frame, Super Frame (SF), Extended Super Frame (ESF) and Unframed.

Frame

A basic T1 frame DS1 (digital signal-level one) contains 24 DS0 (64kbps) time slots, numbered from 1 to 24, each time slot has 8 bits, a total of 192 bits. The T1 basic frame also includes an F bit (framing bit), which is used as a frame synchronization bit to indicate the end of the current frame and the beginning of the next frame. The transmission rate of DS1=193*8k= 1.544 Mbps.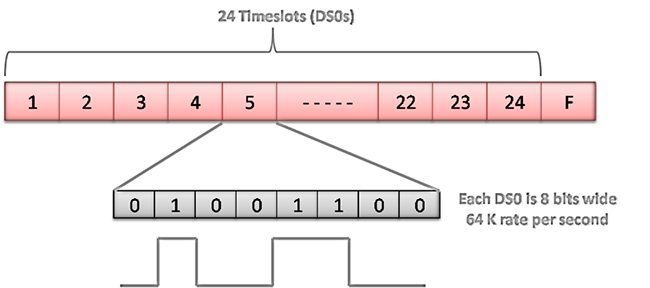 ● T1 frame is constructed of 24 timelsots (each timeslots is of 8 bits) plus one framing bit added.

● Total frame length is 193 bits.

● Each TS is regarded as a channel of 64 kbit/s bandwidth.

● Framing bit creates a channel of 8kbit/s and is used for messages, synchronization, and alarms.

● A frame is the basic building block for the SF and the ESF.

Super Frame (SF)

The SF frame format (also known as the D4 frame format) is the most commonly used format in the current public switched telephone network. Each SF consists of 12 basic DS1 frames. The 193th bit of each frame is used as the control bit, and the 12th 193bit of the SF Combine them to form a 12-bit control word (eg 100011011100) to provide frame synchronization and signaling management information. The odd bits of the 12-bit control word of the SF frame (called the Ft bit, and the corresponding frame is called the terminal frame) are used to mark the frame and superframe boundary so that the receiving device can correctly process user data; the even bits of the control word (called Fs) Bit, the corresponding frame is called signaling frame) used to carry signaling flags.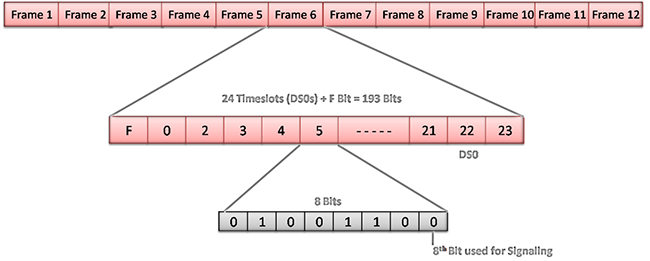 Extended Super Frame (ESF)

The ESF frame format extends the SF frame mode from 12 frames to 24 frames, a total of 193* 24 = 4632 bits. ESF and SF frame format are basically the same.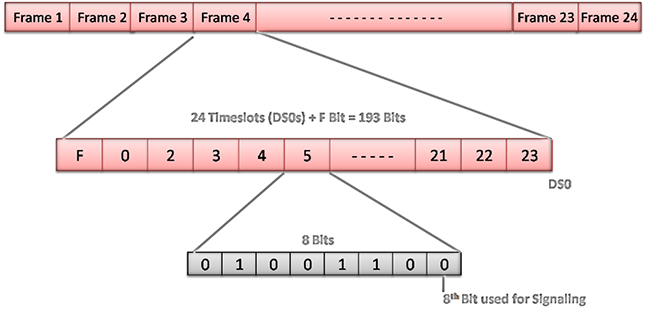 T1 Line Encoding

T1 commonly used line codes include B8ZS code and AMI code. B8ZS is the abbreviation of Bipolar with 8-Zero Substitution, mainly to solve the defect that the timing signal cannot be extracted when the long 0 appears in the AMI coding format.