Multi-mode fiber uses a large diameter glass core size of either 50um or 62.5um which provides multiple modes or pathways for light to travel. The multiple modes allow more light (mainly data) to travel through the cable.
Multimode optical fiber is designed to use VCSEL lasers to transmit light in the 800nm-1300nm wavelength range. However, at longer distances, the light will start to experience dispersion (distortion in light) which can limit data transmissions through unclear, incomplete signal on the receiver end.
Due to distance limitations, multimode optic fibers have been widely used in many short-distance applications of less than 1000m, deployed for applications inside buildings or between sites of close proximity like campus networks, data centers, municipal complexes, Local Area Networks (LAN), and so on.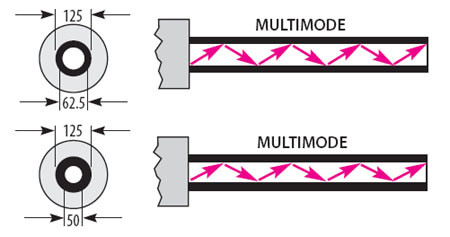 Features of Multi-Mode Optical Fiber:

● Larger core diameter, usually 50~100 Micrometers (62.5 most common), the cladding diameter remains 125μm.
● The source of optical signals in MMF are either light-emitting diode (LEDs) or vertical-cavity surface-emitting lasers (VCSELs).
● The typically optical wavelengths of SMF is 850nm and 1300nm.
● The bandwidth of MMF is limited due to modal dispersion. the theoretical value of MMF bandwidth is 28000MHz*km.
● The color-coding or sheath color for an MMF is an orange or aqua jacket.
● Due to higher attenuation via dispersion, the MMFs are suitable for short-distance fiber optic transmission. However,by using suitable fiber optic connectors, the transmission distance can be extended.
● MMF supports 100Gbit/sec transmission speed. The general, practical data transmission rate of MMF is 100Mbit/sec up to 2km and 10Gbit/sec up to 550 meters.
● Widely used cable in LAN networks today
● Easier to terminate
● Transmitters and receivers are more economical
How Many Types of Multimode Fiber?

Multimode fiber optic cables can be classified into OM1 fiber, OM2 fiber, OM3 fiber, OM4 fiber and OM5 fiber, details as below:

OM1 Fiber
OM1 fibers usually have an orange jacket and a core size of 62.5 μm. and is most commonly used in 100M Ethernet applications, usually using LED light source.
OM2 Fiber
OM2 fiber is also equipped with an orange jacket and uses a LED light source but with a smaller core size of 50 μm. It supports up to 10 Gigabit Ethernet up to 82 meters but is more commonly used in 1 Gigabit Ethernet applications.
OM3 Fiber
OM3 fiber comes with an aqua color jacket. Like the OM2, its core size is 50 μm, but the cable is optimized for laser-based equipment. OM3 supports 10 Gigabit Ethernet up to 300 meters. In addition, OM3 can support 40 Gigabit and 100 Gigabit Ethernet up to 100 meters, but the most commonly used is 10 Gigabit Ethernet.
OM4 Fiber
OM4 fiber is fully backwards compatible with OM3 fiber and shares the same unique aqua jacket. OM4 is specifically developed for VSCEL laser transmission. Compared with OM3's 300M, it allows up to 550m of 10 Gig/s link distances. And it can run 40/100GB up to 150 meters using MPO connectors.
OM5 Fiber
OM5 fiber, also known as WBMMF (wideband multimode fiber), is the latest type of multimode fiber, and it is backwards compatible with OM4. Its core size is the same as OM2, OM3, and OM4. The color of OM5 fiber jacket is lime green. It is designed and specified to support at least four WDM channels at a minimum speed of 28Gbps per channel through the 850-953 nm window.
Note: OM1 has a core of 62.5μm, while OM2,OM3,OM4 all have a core of 50μm, so OM1 can't be used as a patch cable in a system involving OM2,OM3,OM4, and it will not work with connectors rated for OM2,OM3,OM4.

Difference between OM1 vs OM2 vs OM3 vs OM4 vs OM5
The mainly difference lies in diameter, jacket color, optical source and bandwidth, which is shown as follows:
| | | | | |
| --- | --- | --- | --- | --- |
| MMF Cable Type | Diameter | Jacket Color | Optical Source | Bandwidth |
| OM1 | 62.5/125µm | Orange | LED | 200MHz*km |
| OM2 | 50/125µm | Orange | LED | 500MHz*km |
| OM3 | 50/125µm | Aqua | VSCEL | 2000MHz*km |
| OM4 | 50/125µm | Aqua | VSCEL | 4700MHz*km |
| OM5 | 50/125µm | Lime Green | VSCEL | 28000MHz*km |