MPO (Multi-fiber Push-On)
MPO fiber optic connector is comply with IEC-61754-7; EIA/TIA-604-5 (FOCIS 5) standards, MPO is a 12 fiber connector for ribbon cable, often called an array connector. the connector ferrule is plastic and contains 12 or 16 fibers in a row.Fiber ferrule alignment is by pins in one ferrule and holes in the other.the most common fiber counts are 8, 12, 16, and 24, 32, 48, it often used for higher speed multimode links (40 or 100Gb/s) that use parallel optics.
MTP connector stands for "Multi-fiber Termination Push-on", made by US Conec, it is an improvement of the original MPO connector designed by NTT. designed to terminate several fibers (up to 12 strands)in a single ferrule, hold in place by a push-on/pull-off latch, and can also be distinguished by a pair of metal guide pins that protrude from the front of the connector.
Because of the high number of fiber strands available in a small connection, MPO/MTP are used for backbone, cross-connect, and breakout applications.
Difference Between MPO and MTP: MPO is a fiber connector type while MTP is a registered trademark of an MPO connector manufactured by US Conec. All MTPs are MPOs but not all MPOs are MTPs.

MT-RJ
MT-RJ stands for Mechanical Transfer-Registered Jack, is another popular SFF connector,covered in the TIA connector intermateability standard FOCIS-12 (TIA-604-12).
MT-RJ is a multimode duplex connector that contains both fibers in a single polymer ferrule. It uses pins for alignment and is available in male and female versions,field terminated only by prepolished/splice method.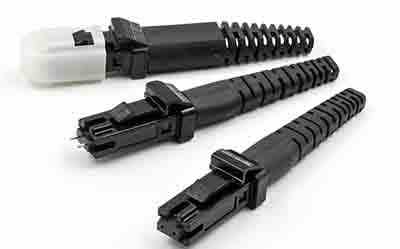 MT-RJ Connector
SMA Connector
SMA means "Subminiature A",microwave connector,the SMA 905 and 906 fiber optic connectors are available with stainless alloy or zirconia ferrules. The stainless alloy ferrule can be drilled from 240μm up to 1550μm to accept various fiber sizes,this connector was eventually replaced by the ST, and later by SC connectors, but still in use on some military and industrial systems.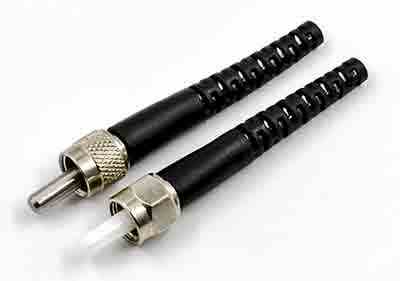 SMA Connector
MU Connector
MU fiber optic connectors covered by the TIA connector intermateability standard FOCIS-17 (TIA-604-17), it looks a miniature SC with a 1.25 mm ferrule. It's more popular in Japan and the far east.
The connector is square and employs a push-pull mating mechanism,designed for high-density connections, the single-fiber connector has a high level of performance, providing more than double the packaging density of the SC connector.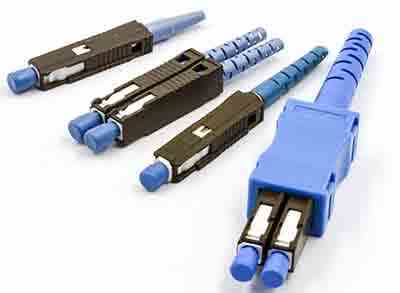 MU Connector
E2000 Connector
The E2000 connector is a latched push-pull locking connector, trademarked by Diamond SA based in Losone Switzerland. it contains an integrated spring loaded shutter that protects the ferrule from dirt, dust and scratches. As this connector uses a monobloc ceramic ferrule, problems associated with different co-efficient of expansion are eliminated.
The E2000 connector supports color keying and its return loss of 0.1 db is one of the lowest in the industry. This connector is widely used in broadband applications, telecommunication networks, Fiber CATV, Fiber-to-the-Home [FTTH] and data networks.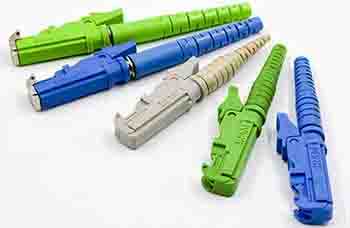 E2000 Connector
BICONIC Connector
Biconic connector is covered in the TIA connector intermateability standard FOCIS-1 (TIA-604-1).Developed by a team led by Jack Cook at Bell Labs in Murray Hill, NJ, the colour of Single mode is yellow and Multi-mode is usually black. the Biconic was molded from a glass-filled plastic that was almost as hard as ceramic.
Biconic started with the fiber being molded into the ferrule until the company could get a 125 micron/5mil pin insert into the plastic mold, at which point the fiber was glued into the ferule with epoxy. When singlemode versions first appeared, the ferrules were ground to center the fiber core in the ferrule to reduce loss. Since it was not keyed and could rotate in the mating adapters, it had an airgap between the ferrules when mated, meaning loss was never less than 0.3 dB due to fresnel reflection. Usually MM Biconics had losses of 0.5-1 dB and SM 0.7 dB or higher.

BICONIC Connector

FDDI Connector
FDDI stands for Fiber Distributed Data Interface, and it actually refers to a local area network standard such as Ethernet or Token Ring. It contains two ferrules in a large, bulky plastic housing that uses a squeeze-tab retention mechanism.the connector contains a 2.5mm ferrule that can mate onto ST and SC connectors by making use of adapters.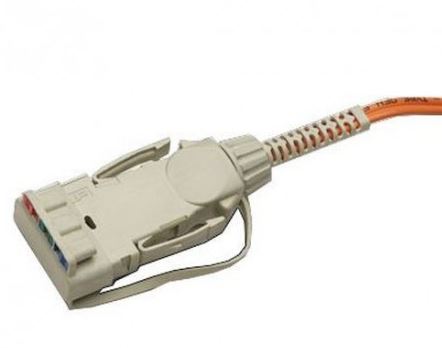 FDDI Connector
Volition Connector
Volition connector is covered by the TIA connector intermateability standard FOCIS-7 (TIA-604-7).it is a slick, inexpensive duplex connector that uses no ferrule at all. It aligns fibers in a V-groove like a splice. Plug and jack versions, but field terminate jacks only.

Volition Connector

Opti-Jack Connector
The Panduit Opti-Jack is covered by the TIA connector intermateability standard FOCIS-6 (TIA-604-6).it is a neat, rugged duplex connector resembles the universal RJ-45 connector, contains two ST-type ferrules, and it is available in both male and female versions.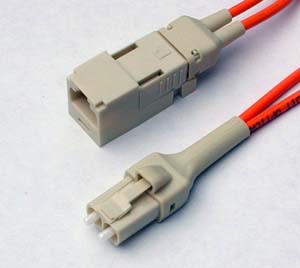 Opti-Jack Connector

Deutsch 1000 Connector
Deutsch 1000 was maybe the first commercially successful fiber optic connector. It was actually a "pin vise" holding a stripped fiber. The nose piece is spring loaded and is pushed back when the connector was inserted into a mating adapter. The fiber stuck out into a drop of index matching fluid on a plastic lens. it was popular in the late 70s, the insertion loss is about 3 dB.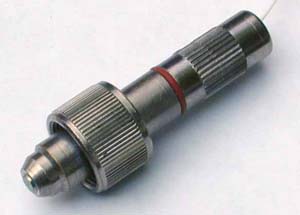 Deutsch 1000 Connector

D4 Connector
The NEC D4 was probably the first connector to use ceramic or hybrid ceramic/stainless steel ferrules. It uses a smaller ferrule than SC or FC connector. It was widely used in telecommunication networks in the 80s to early 90s and some may still be in use.

D4 Connector